This CyberLandr add-on as "mobile home" has a smart design, fits in the trunk of the Cybertruck electric pickup and it is equipped with all the essential comfort features.
Ever since the electric Tesla Cybertruck went public, many people have dreamed of how they'll go camping. This makes perfect sense, because Cybertruck is more like an adventure pickup than a daily "pack horse".
To be able to follow Jeep Wrangler, Ford Bronco, and Toyota 4Runner into the wilderness, however, Cybertruck needed a whole new camping solution. The traditional rooftop tents and campsite pickups won't fit the car's slick, angular roof design, and pulling a heavy trailer behind will consume hundreds of kilometers of travel distance.
That's why we need the CyberLandr mobile home, a truck camp that is groundbreaking in terms of design, features, and materials matching Cybertruck. Unlike traditional pickup truck camps, which are installed in the trunk and protrude on the cabin, CyberLandr completely fits in the trunk of Cybertruck when retracted; Both the tailgate and the hood can be closed on it.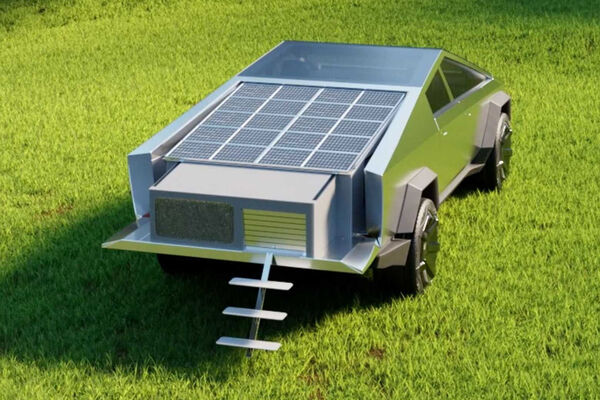 When opened, the CyberLandr lifts up and out of the back door to become a solid, four-season camping cabin with all the amenities such as a home, including a combined kitchen, living room, bedroom, and room. separate shower.
The beauty of the CyberLandr's design is that when stowed, it does not add additional drag to the Cybertruck's aerodynamics, thus eliminating a huge impact on electric vehicle travel range like a camping cabin or vehicle. traditional trailer.
CyberLandr also has an idle weight of just 544 kg, less than half of Cybertruck's maximum load limit of 1,588 kg. Moreover, CyberLandr also runs on electricity completely, so don't worry about it causing harm to the environment and creating unpleasant gasoline smell.
And yet, as Cybertruck will provide some of the largest batteries available on the market, CyberLandr doesn't need its own power supply, like a gas generator or backup battery. Users simply plug it into Cybertruck and share the power, then re-transmit energy from the 500-watt solar panels installed on its extended rooftop.
When opened through the push of a button on the app, CyberLandr has two rooms: a larger room, where you eat, sleep, entertain, and a private bathroom. This larger room features a beautiful marble ceramic kitchen countertop located along the entire side with a large sink and an invisible induction hob mounted cleverly below its surface. In addition, below the table top there is a small refrigerator and storage space.
For entertainment, CyberLandr will come with a 32-inch 4K smart TV / screen with built-in streaming apps. The TV is mounted on a horizontal rail, so it can be moved to one of three wall surfaces. In addition, the manufacturer has installed surround sound, and each CyberLandr will roll off the factory with Elon Musk's own StarLink satellite pan to get literally high-speed internet anywhere on Earth ( except Antarctica).
When it is time to go to bed, the two backrest chairs will turn into a queen-size bed mounted above the table top. That will leave room under the bed for another person or two children to sleep on the floor. The double-layered windows offer good thermal insulation and also feature electromechanical dimming to provide complete privacy without the need for curtains. Like all Tesla cars, CyberLandr has a 360-degree surveillance system for security purposes, as well as a motion sensor exterior lighting system.
Finally, the bathroom was located behind the main room above the open back door of Cybertruck. It features underfloor heating, a dry flush toilet with a self-cleaning toilet that eliminates the need for a black water tank, and a recirculating shower with a 4-stage filter that makes a water supply comparable to that of. the size of the freshwater tank 151 liters and the gray water tank 76 liters.
CyberLandr will be built in Austin, Texas, close to where Tesla is making Cybertruck. One day, you can even order Cybertruck and CyberLandr together and get the goods pre-assembled.
CyberLandr mobile home price has a recommended retail price of 49,995 USD, on par with the high-end pickup truck campers on the market. Interested parties can make a deposit from now on and receive a promotion when CyberLandr is officially on sale.